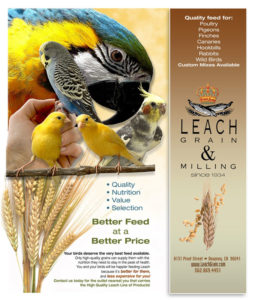 Quality Seed and Grain Products
Contact your local Bird and Feed Retailer
(562) 869-4451
LEACH GRAIN & MILLING CO., Producers of Royal Feeds is a small, family-owned business that has been manufacturing a full-spectrum of quality feed products for birds and poultry since the 1930's. They supply quality feed to Southern California, Arizona, Hawaii, Guam, and the Philippines.
The company motto is Quality Feeds for Less. The Leach family believes that good genetics, good feed, and good management practices are essential to the health and well-being of our avian companions. Because of this, they have set high standards for all their products. Leach seed is always fresh and clean. Among their products is a mix called Large Hookbill Cuisine, and Small Hookbill Cuisine, is quite popular. Many people say their birds stick their head in the feed bowl and barely come up for air. Not only does LEACH GRAIN & MILLING CO. care about exotic birds, they also care about our wild birds.
In addition to the variety of bird and poultry diets they sell, they carry a great economical wild-bird mix that does not contain all the junk "filler" seed many economy stores have in their wild-bird mix. If you haven't tried their products, perhaps now would be the time. The Leach family has generously supported local avian organizations for many years. Many of us know Bruce Leach who has spoken at many local clubs throughout the years. Bruce said he wants us to know how happy they are to sponsor SBBS, but we want him to know SBBS us proud to have LEACH GRAIN & MILLING CO. as one of it's sponsors. Our thanks to the Leach family for all their support and generosity.